Laura Domenica is the founder of Connected Horsemanship. She is currently the sole certified Chris Irwin trainer in Ireland. She has studied extensively within the Parelli syetem, and with Klaus Ferdinand Hempfling to name but a few.
Laura grew up with horses on the west coast of Scotland and started riding horses at the age of five, spending her formative years roaming freely across moors and beaches on her ponies. Often referred to as a natural, she was able to jump her first pony without a saddle or bridle.
Throughout her childhood and early teens she competed successfully in show jumping and cross country. She then trained with the McFarlane's at the Scottish Equitation Centre where she received a thorough grounding in riding, horse care and stable management.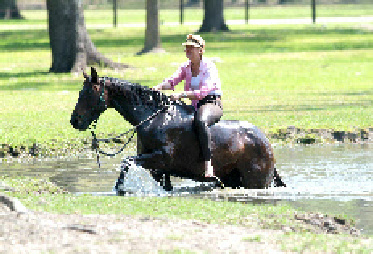 In her early twenties she worked in racing stables, but returned to her studies and completed a B.Sc. (Soc. Sc.) in Psychology and Business Studies at Edinburgh University. She became a buyer and merchandise manager in the retail business. Over the next ten years her work took her all over the UK and Ireland, to the US and to Russia.
With the advent of her first child Laura no longer wanted to travel so she went back to her first love and started working with horses again.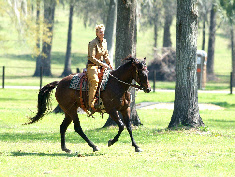 She set up her riding school in Scotland and taught adults and children to ride for the next 10 years. During this time, through one of her friends in the racing world, she was given some racehorses to rehabilitate. Although she had worked with thoroughbreds in the past she found their rehabilitation required another level of understanding.
This led her on a quest for greater understanding of how horses think and feel, how they learn and what motivates them. She wanted to be able to connect to these, often troubled, and difficult horses and have them truly trust her and want to be with her.
The prospect of the horse becoming a willing partner, who was mentally and emotionally connected to its rider, rather than a horse that tolerated what was being asked of him, intrigued her.
When her husbands work took the family to the US and then to Europe, Laura was given the chance to widen her education. When she first saw John Lyons work with a difficult horse she was impressed by his way of communicating and by his phrase "the strongest lead rope in the world is the horses mind". She knew right away she had found another key to what she was looking for and determined to learn more.
This started a nine year voyage of discovery, as she studied with some of the greats of the horsemanship world. She learned the Alexandra Kurland " method of clicker training" and gained a foundation in natural horsemanship by following the teachings of John and Josh Lyons. When she returned to Europe she became a working student in France within the Parelli system under Andy Booth. One year later she spent two further extended periods of study in the US under Pat and Linda Parelli.
After having two horses in Parelli level three she continued to expand her knowledge working with other practitioners who could help her understand and grow in her own self development. This for her was by far the greater challenge and one that is ongoing.
She has read, studied, and worked with with Peggy Cummings, Bob Jeffreys and Suzanne Shepherd, and Klaus Ferdinand Hempfling. She greatly admires the work of Lesley Desmond and Mark Rashid and is currently studying with Chris Irwin.
To help her students with the art of riding she has spent time with Sally Swift's Centered Riding® practitioners in the US, and with progressive riding instructors Mary Wanless and Heather Moffett in the UK. She is currently preparing for the Equestrian Federation of Ireland national coaching certificate.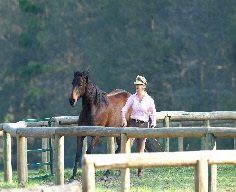 Laura has slowly developed her own style of horsemanship based on her traditional background combining it with the knowledge she has gleaned from the teachings of those she has studied with. She says "horses are highly individual, and you have to read them as such. The more time you take to see this, the more insight you have, and the more insight you have, the more you are able to offer the right feel, at the right time, and in the right way."
Laura now lives and teaches in Ireland. She lectures, runs courses and teaches one-on-one with people of all abilities. She is committed to helping people find a better way to communicate with their horses, and to truly create the "connected horse".
Biography of Connected Horsemanship Founder Laura Dominica